Welcome to Style Sessions! Today is all about one seriously glam closet staple… the Little Black Dress. I'm sure many of you reading this will own one (or ten) LBD's, I think they are beyond versatile – dress them up, dress them down… perfect for so many things! I adore mine with a cute collar, beading and jewels…

Last week was another big Friday's Fab Favorites Link Up event! I had fun collaborating with our three fabulous Co-Hosts,  Alyssa from Not Your Mom's Closet, Alison from Get Your Pretty On and Merrie from Petite Career Girl. If you haven't already, it's not too late to join the link up – click here to share absolutely anything!

In case you're new here, Style Sessions is live every Tuesday from 12am PST. It's all about sharing what we've been wearing, or if you're on a budget, a virtual outfit you'd love to wear! Every week I also select someone to showcase as 'Head Stylist' in the next edition – it's a perfect way to meet new bloggers, showcase your personal style and your blog.

Want to join the fashion link-up? Add your post now and meet some new fashionistas!
I simply ask that you please follow Style Elixir (via Bloglovin', Twitter, Facebook or GFC!) and provide a link to this in your post or add the button below to your blog.
A
ny tweets to spread the word are fabulous, we all love meeting new blog friends!
The Little Black Dress… 
I've always wondered, does every woman own an LBD? Do you have one in your wardrobe? I have many… but I know my mom thinks black isn't her color, so she doesn't have one. I remember reading fashion magazines when I was in my early teens and seeing all the glamorous 20-somethings wearing little black dresses, with editors touting their 'must-have' status. So I'd love to know, apart from my mom, does every woman have a little black dress?
Outfit Details:   Darling Black Dress   |   Silver Bow Clutch   |   Patent Red Heels   |   Flower Pearl Bracelet (similar)   |   CZ Stud Earrings   |   YSL Lipstick in #013 Le Orange (this is my favorite!)
I am thrilled to introduce you to this week's Head Stylist, Ariel from Auteur Ariel! When I saw her look below, I immediately thought "this gal's got style!". I adore the burgundy, black and white color combination – and that hat is perfect for Fall!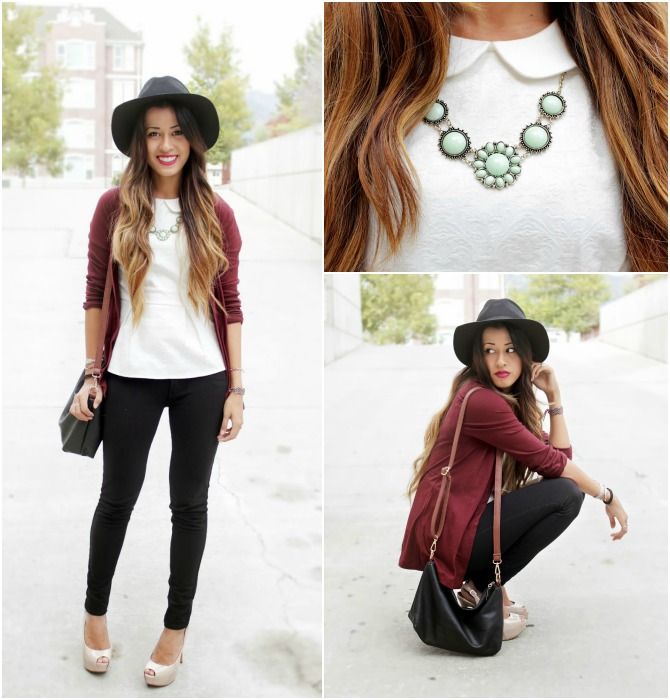 STYLE Q&A WITH ARIEL
What is your go-to look?  With Fall making its presence, my go-to look is an oversized sweater, skinny jeans and combat boots. If it's extra chilly that day, I add an infinity scarf and utility jacket!
Which fashion trend are you currently loving?  I am currently loving beanies! Not only are they cute, but they're prefect for keeping your ears warm during the Fall and a life saver for those bad hair days. I always find myself drawn to them when I'm shopping – I'm subconsciously building a beanie army.
What inspired you to start your blog?  My friend B. He writes a fashion column for a online NY magazine and the moment I read his first article, I was totally inspired. Blogging is something I've been wanting to do for a while and that inspiration gave me the final push I needed to get my blog up and running!
Name three beauty products you couldn't live without:  1. bareMinerals Matte Foundation – No matter what foundations I keep trying out, I keep crawling back to bM.  2. Argan oil – For my dry ends, especially during the Fall and Winter   3. EOS Lip Balm – I always keep one on me because there is nothing more distracting than a pair of dry, cracked lips. Not to mention they come in such a cute sphere shape!
How would you describe your style? Boho Chic. I love feeling pretty with my peplum tops and heels, but I am also obsessed with beanies, combat boots and feathers.
To discover more about the chic Ariel, visit Auteur Ariel.
Join The Link Up Now and Share Your Style!

Are you looking to grow your blog or store?
If so, I'm currently taking advertising bookings! For more details, just click here or email me.
Also, if the Friday's Fab Favorites Co-Hosting opportunity is of interest to you, simply send me an email for more details!
P.P.S I've linked this up to What I Wore Wednesday, What We Wore, Transatlantic Blonde, Lovely Blog Hop, Get Your Pretty On, Random Wednesday, Sunday Style, Whims Wednesday, Three-fer Thursday, Friday's Five, Friday Style, Fashion Informant, Summer Style, Wardrobe Wednesday, Whatever Whenever Wednesday, Totally Posted Tuesday.